Home improvement includes the benefits of basement waterproofing.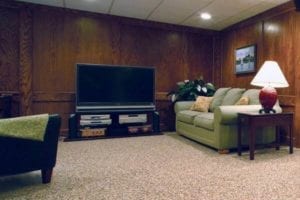 It might sound strange, and the basement might not be the most glamorous area but it's your basement that supports your house during thick snow, heavy rain and extreme heat 24 hours a day, seven days a week and 365 days a year.
For this reason, basement waterproofing is a must. Rest assured your house remains healthy for many years if you include it in your top 5 list of priorities.
Physical Benefits
1. Stronger Foundation
It's wasted space if your basement only becomes a dark storage area for old newspapers, heavy wood cabinets and unused tables. It welcomes mold growth and will only result in a weak foundation.
However, waterproofing will make it much better. Your basement may support from one-third to the entire space of your home for a longer period of time whether it's winter, spring, summer or fall.
2. Extra Space for Privacy
A basement is an ideal underground area for recreation, fitness, entertainment or laundry. In the case you don't need it for anything, you can transform it into a guest room or in-law apartment. Your mother or your partner's mom will have complete privacy, but she's still be close enough to help or visit.
3. Easy Cleaning
A basement with concrete floors requires little management and none if you're going to install stone flooring. Vulcan Stone Flooring is an ideal covering applied over a cracked and discolored floor. It is made up of fine stones mixed with formulated epoxy; therefore cleaning only requires a vacuum, hose or mop.
4. Preparation for a Remodel
Thorough waterproofing prepares your basement for fancy remodels as well. Experts believe it's a waste of money to renovate even a small area without fixing the water and humidity problems first. (Midwest Basement Tech, 2014).
Health Benefits
5. Bye to Health Problems
Basement waterproofing gives an assurance your house stays disease-free (Eiupikes, 2013). A study shows a toxic black mold can grow within 24 to 48 hours.
Your basement immediately suffers if it continues to spread and will result in a musty smell. If left ignored, it yields various health problems to you and to your family. Skin allergies, asthma, allergic rhinitis, eye irritation, fever, headache and coughs are expected.
6. Peace of Mind
A clean and well-ventilated basement brings emotional comfort to all family members. You don't have to worry about flooding when it rains or snows heavily. You can also invite a group of guests over, or your children can play with their toys even in their bare feet.
7. No Frequent Flooding
Flooding is the number one natural disaster in America. It happens during hurricane and winter seasons.
Bart Belkin is a local resident in Fairfield Beach Road, who along with his son refused to evaluate their house during the height of Hurricane Sandy in 2012 (Connecticut Mag, 2013).
"We were somewhat protected by the house in front, we have access to roads out of the beach area, there are no trees to worry about, and there are things you can do to save your house." He said in an interview. "It [basement waterproofing] was the best investment I've ever made. The shutters kept the windows and doors intact and the water out."
Like Belkin, you too can protect your house. Make it a habit to check your French drain and sump pumps regularly. Make sure these are working properly before the inevitable happens.
8. Low Humidity
Experts believe 50% of indoor air comes from the basement (Midwest Basement Tech, 2014). The air may feel damp but when the basement humidity is reduced, it will not produce condensation in windows. When there's no condensation, there are no wet stains in the walls and floors.
That's why it's so important to keep the level of humidity low, and invite a licensed contractor to install a quality ventilation system that removes stale, damp and contaminated air 24/7.
Financial Benefits
9. Reduce Costs
Basement waterproofing allows you to save on energy costs. Truth is; seepage forces your ventilation system to work harder during warmer and wetter months. So, make a change. Seal all leaks and cracks to increase the level of energy efficiency.
10. Protect Your Investment
Your house is your investment. It's something to be proud of. However, this is the type of investment that needs your constant love and care. Like you feed and support your family unconditionally, your basement also needs regular inspections, maintenance and repair.
11. Increase Resale Value
A basement without leaks, cracks and musty smell will attract more renters and more buyers. You can potentially increase the value of your property by 20% if there are no traces of water problems.
12. Free Basement Waterproofing Inspection
Free inspection is the best freemium a waterproofing company can give you. This free service includes the indoor and outdoor examination, the identification of damage extent and the estimation of repair costs.
Call Vulcan today and schedule a free inspection! Read the Vulcan waterproofing reviews elsewhere on this site and see what hundreds of others have so raved about.
We also provide professional waterproofing services in Staten Island. Talk to us when you need leak and crack repairs immediately.