COMMERCIAL WATERPROOFING SYSTEMS
Vulcan experts guarantee waterproofing success.
Call for a Free Quote
Eliminate your basement water problems TODAY!

- In Business since 1947 -
- Over 850,000 Basements Waterproofed -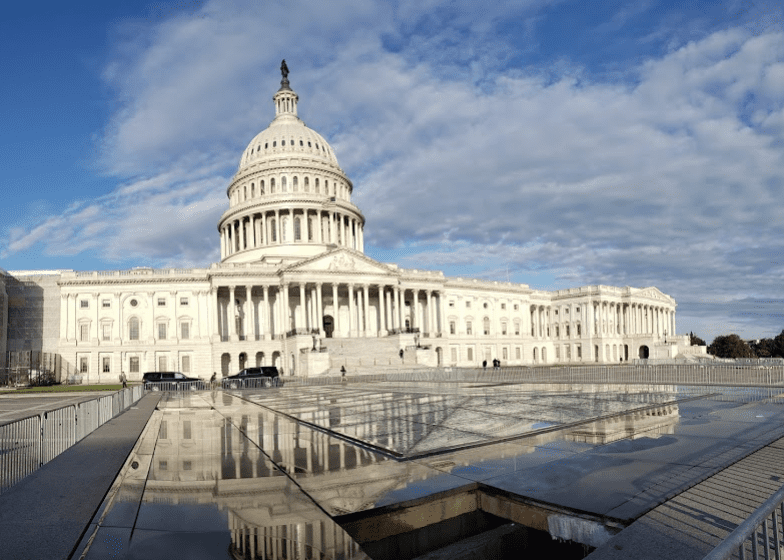 Vulcan waterproofed the United States Capital building!
Vulcan Commercial Basement Waterproofing
Protect your customers and employees
Vulcan Basement Waterproofing has waterproofed over 850,000 properties since 1947 including the United States Capital Building in Washington D.C. and Andrews Air Force Base where the President's plane, Air Force One, is stationed. We have waterproofed a wide variety of properties including:
Hospitals

Industrial Facilities

State & Federal Governments Buildings

Retail Stores

Corporate Offices

Schools

Churches

Banks
Water coming into contact with exposed electrical wiring and outlets can lead to serious safety hazards. In addition, mold and mildew proliferate in wet environments and can negatively impact employee health causing respiratory ailments and allergies which can lead to lost productivity and revenue through increased sick days.
Water damage can lower the value of your commercial business property by 25% or more. A dry basement can provide more square footage for office or storage space.
For a sampling of our satisfied commercial customers nationwide, see below:
| | | |
| --- | --- | --- |
| AT&T Consumer Products | Aberdeen Proving Grounds | Acme Materials |
| Advanced Auto Body | American Air Lines | Archdiocese of Detroit |
| Arlington Homes Inc | Bank of Northfield | Bayonne Holding Corp |
| Belleville Industrial Center | Board of Education | Borough of W. Long Branch |
| Bronx Zoo | Brooklyn Public Library | Camden County Children's Shelter |
| Capstone Heating Co | Carlisle Manufacturing Co | Case Suffolk Supply Co |
| Catholic Charities – Diocese of Brooklyn | Catholic Women's Union of NYC | Central Federal Savings Bank |
| Century "21" Bonus Realty | Cherry Towne Inc | Church of Christ of Long Island |
| City of Detroit Fire Dept | City of Detroit Hermen Kiefer Hospital | City of White Plains |
| Community Church of Ridgeway | Crisis Center | Cry-O-Safe Inc |
| Cumberland Presbytarian Church | Department of Defense, National Guard Armory (East Orange) | Department of Defense, National Guard Armory (Elizabeth) |
| Department of Defense, National Guard Armory (Westfield) | Dogwood Townhouses | Dunham's Sporting Goods |
| Elm Industries | Everest Liquor | Ever-Guard Industries |
| Expresso W.S.A. | Fair Oaks Hospital | Fairlawn Office Center |
| Fanwood Corp | First Baptist Church of Flushing | First State Bank of Porter |
| Forbes Contracting Inc | Ford City Bank | Ford Motor Car Co |
| Four Seasons Restaurant | Friendly Ice Cream Corp | George Washington University |
| Good Guys | Goodyear Rubber Products | Great American Realty |
| Greater NY Corp of 7th Day Adventists | Greenwood Lake Homes | Hazel Park Lutheran |
| Hempstead Bank | Hillkroft School | Hillside Village Condo |
| Hillthorn Realty Corp | Holliswood Jewish Center | Holly Hills Comm Inc |
| Hood College | Hopatcong Custom Builders | Howard Beach Realty |
| Howard Johnson Motor Lodge | Hudson City Savings Bank | IBM Corp |
| Indian Trail School | Inquiry & Adjustment Bureau | Inwood Park Developers |
| Jersey Truck Center | Johns Hopkins Hospital | Key Foods |
| Knox Presbyterian Church | Kupper Consultants | Larry's Golf Shop |
| Levitt & Sons Builders | Linden Hill Post Office | Livingston Somerset Mgmt |
| Long Island Development Center | Long Island Institute of Music | Lyndhurst Trading Corp |
| Macy's Department Store | Madison Board of Education | Madison General Hospital |
| Mamaroneck Avenue Assoc. | Matawan Regional Schools | Maywood Park Racetrack |
| McDonalds | Michelin Tire Corp (Lake Success) | Michelin Tire Corp (Munsey Park) |
| Mid-Bergen Mental Health | Millar Industries Elevators | Millbrook Free Library |
| Montclair Glen Ridge Medical Arts Assoc | Morris Realty Corp | Mount Herman Baptist Church |
| Mount Sinai Hospital | Mount Zion Baptist Church | Mt Olive Lutheran Church |
| Murphy Freight Lines | National Psychological Assoc | New Brunswick Development Corp |
| New Rochelle Indoor Racquet Club | New Rochelle Manufacturing | New Salem Baptist Church |
| Newark Trade Typographers | Newport Garages Inc | North Babylon Public Schools |
| North Woodmere Jewish Ctr | Northeast Guidance Center | Northside Christian Church |
| Nyack Public Library | Oakwood Baptist Church | Odd Lot Trading Inc |
| OXO Industries Inc | Parkchester Baptist Church | Pennsylvania College of Optometry |
| Port Washington Fire Dept | Proctor Silex Co | PSE&G |
| Qualified Retirement Program | Queens Community Workers | Queens Chiropractic Ctr |
| Queens Community Church | Queensboro Co-op | Queensboro Newmann Center |
| Rama Advertising | River Grove Bank | Roosevelt Savings Bank |
| Rye Medical Group | Sacred Heart Church | Saint Agnes Hospital |
| Seton Hall University | Silver Lake Audio | Somerville Board of Ed |
| Southhampton Inn | Southhampton Nursery | St Joseph's Children's Hosp |
| Syosset Hospital | Tenafly Board of Ed | The Apostle Church (Irvington) |
| The Apostle Church (North Bergen County) | Travelers Hotel | Trump Construction |
| Union Carbide Corp | United Airlines Inc | U.S. Capital Building |
| U.S. Andrews Air Force Base | US Post Office NJ | Veterans Hospital |
| Video Corp of America | Village of Floral Park | Village of Hanover Park |
| Village of Niles | Villas of Forest Hills | Walgreens Drug Store |
| Wantagh Congregational Church | Warren Controls | Weichert Realtors |
| West Essex Electric Supply | Westchester City Girl Scout Camp | Westfield Pines Apts |
| Westover House Inc | White Meadow Temple | Woodbridge Land Inc |
| World Courier Inc | Wyandotte Terminal Railroad | Xaverian High School |
| Yonkers Cont Co | Your Brokerage Service Inc | Zavin Co Inc |
Your Trusted Basement Waterproofers
Established 1947 Our Only Business for Over 65 Years