WATERPROOF STONE FLOORING
Vulcan experts guarantee waterproofing success.
Call for a Free Quote
Eliminate your basement water problems TODAY!

- In Business since 1947 -
- Over 850,000 Basements Waterproofed -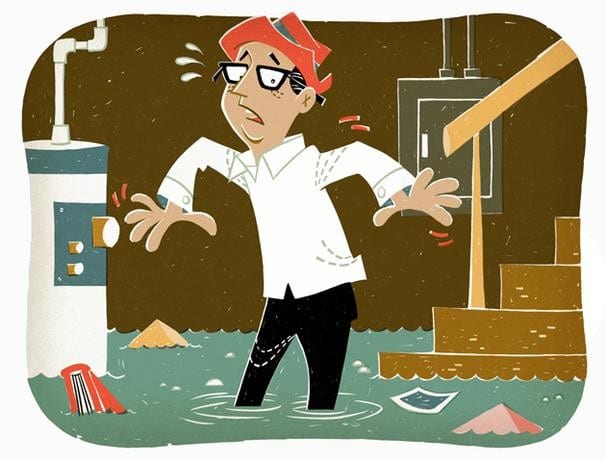 Vulcan Waterproof Stone Flooring
When you resurface a concrete floor with carpeting, tile, paint and other coatings, the moisture has nowhere to go and becomes trapped. Carpeting gets damp and begins to breed mold and mildew. Tiles loosen, crack, break and pop up. Paint and coatings blister and peel. These are all main reasons why you frequently have to replace and reapply these types of concrete floor coverings.
Vulcan Stone floors are engineered specifically to be applied over concrete. Normal floor covers aren't suitable for concrete floors. Concrete is porous and damp, so water migrates upward from the ground, working its way through the concrete.
Garage Before
Garage After
  You'll never have to replace your Vulcan stone floor again!   Our stone floors prevent mold, mildew and moisture problems from occurring. It cleans easily with a vacuum or damp mop and never needs to be replaced.   Vulcan stone flooring is the natural stone flooring choice to solve your concrete floor problems, permanently.
Virtually maintenance-free
Cleans easily with vacuum, hose or mop
Skid and slip-resistant
Corrects puddling, low spots and uneven areas
Hides chipped, cracked and stained concrete
Does not trap moisture (carpet, paint, tile and other coatings do, which is why they don't last)
Will not breed mold or mildew-perfect for wet, damp or flood-prone areas
Comfortable to walk on – even in bare feet
Create unique patterns, borders, designs and logos
Environmentally friendly
Usually installs in just one day
  Continue and see the Stone Colors
Your Trusted Basement Waterproofers
Established 1947 Our Only Business for Over 65 Years