Floors play an essential role in gym. It makes the place more comfortable. It attracts more new members and it drives existing members to come back for more.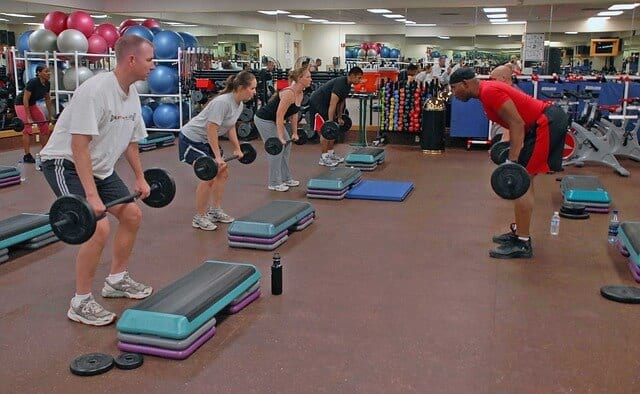 Among the public shops in a city, a fitness gym is one particular place with the busiest foot traffic of all time.
Business-wise, the American fitness industry is successful. One in five Americans visits the gym to get in shape. In 2013, there's an increase of 6.4% centers totaling the number to 34,000 (Franchise Help, 2016).
There were 533,200 people employed in 2014, as compiled by the Bureau of Labor Statistics, and jobs are expected to grow 8% by 2024.
Floors, however, emerge as the biggest gym problem despite its revenue of $25.8 billion (IHRSA, May 2016). It becomes dirty and slippery. Stains become visible too.
Dumbbells, barbells and weight racks put too much stress on the floor. These are heavy equipment. In the long run, the weight becomes too much resulting to cracks and leaks. Stubborn stains appear too.
It is a real dilemma to have these problems. If you look the big picture, it goes beyond the floor. Your reputation and the gym's brand are also at stake. Less and less customers will sign up for a membership.
What is Vulcan Safety-Flex?

Vulcan Safety-Flex is made of synthetic rubber used as both indoor and outdoor flooring.
It permanently solves floor problems in the gym. It provides a cool barrier between heavy free weights and concrete floor.
It is popularly known for its durability, natural resiliency and low-maintenance. It contains an anti-slip textured material in which it protects the whole gym area from damage.
It also acts as a shock absorbent material for heavy weight training. You can even lie on it when needed. It is guaranteed safe and stain-free.
Rubber Flooring for Fitness Gyms

Vulcan Safety-Flex is the ideal rubber flooring for free weights and treadmills. It is a versatile athletic floor that provides the right thickness that you need for any amount of weight. It ensures no tears, shreds or holes.
This is the kind of rubber surface that is also available in different colors and styles. Installation is easy too. You don't have to wait for weeks.
Public gyms are loud places. There are those who make weird noises every repetition. There are also those who wear earphones and sings as if they're having a sold-out concert.
For these reasons, the rubber flooring helps reduce the noise. Its unique properties prevent the noise from distracting a workout session.
Rubber floors provide thermal insulation too. It feels dense that you won't feel any discomfort. You can move freely in any direction that you want.
Listed below are the reasons why your gym needs Vulcan Safety-Flex:

Durability & Weatherproof
It's flexible. It's tough. It's resilient. Those are the three strongest qualities of Vulcan Safety-Flex. Also, it withstands heavy blows, gouge, scuff and scratch.
You'll have no problems with smokers. This rubber flooring resists cigarette burns and chemical spills. If you have an outdoor gym at home, harmful effects of the sun, snow and ice remain powerless.
Rubber flooring possesses a high stretching threshold. It expands. It contracts to accommodate ground movement and thaw. Lastly, it eliminates cracking.
Versatility
You'll never feel disappointed whether you'll install it outdoors or indoors. As said earlier, it's available in different colors that blend well with the walls, lights and other floor types.
Long-term
You'll get what you pay for. This type of flooring lasts for decades with little maintenance. It brings more savings on your bank account.
Low Maintenance

Cleaning only requires a wet mop. Experiments reveal it resists stains better than other surfaces. There's no need to replace it every now and again.
Noise Reduction

Rubber floors possess static resistant, which has the ability to reduce noise through absorption.
Water Resistant
For the reason it's mold-resistant, it makes an excellent solution for high moisture and water areas. You can make sure the gym smells fresh and clean all the time.
Fire & Burn Resistant
Vulcan Safety-Flex resists burns. It doesn't release deadly fumes. That's why; all your customers will feel safe and secured.
Softness & Safety
Never forget this flooring is an ideal surface for any type of fitness center – whether it's for workout, yoga or dance. You'll receive great feedback from your customers, family and friends.
Vulcan Waterproofing provides basement waterproofing services in New York, Connecticut, New Jersey and Pennsylvania. Please call us today (877) 885 – 2268.